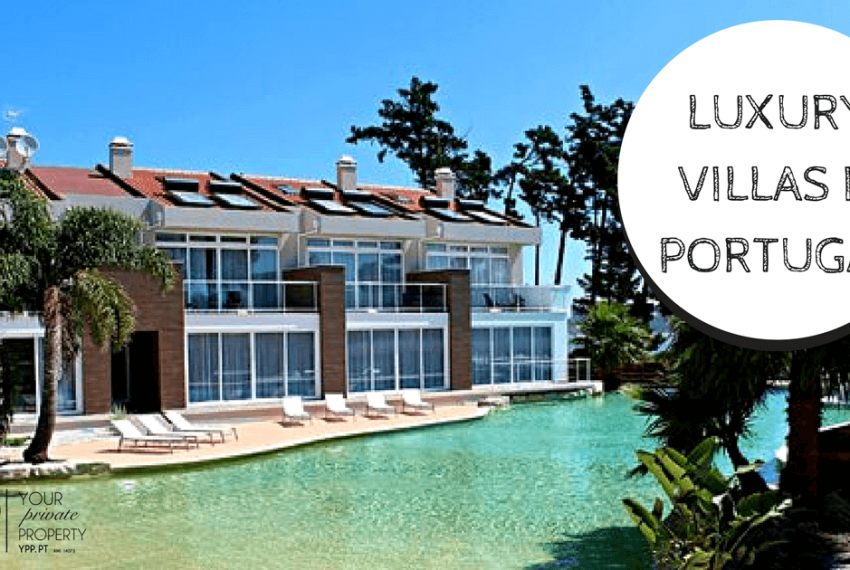 Luxury villas in Portugal
There are so many amazing luxury villas in Portugal that you should definitely experience once in a lifetime.
From South to North you can find luxury villas in Portugal that can take your breath away. In this article, we will nominate, out of order, some of them, according to trip advisor ranking.
There is some Luxury villas in Portugal that are incredible:
VidaMar Resort Algarve in Albufeira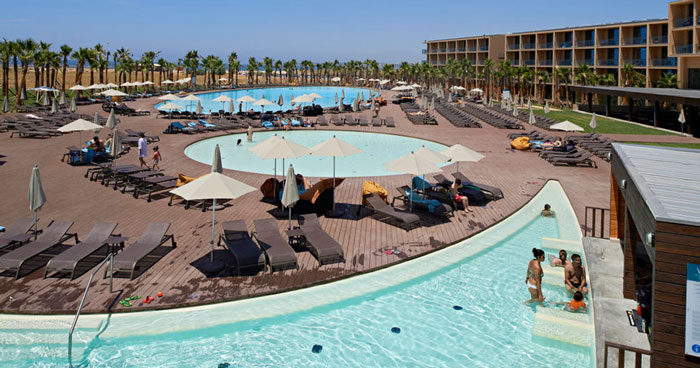 This luxury villa has a luxury bedroom in a five stars hotel and besides that it can have one, two or three more bedrooms, one living room with 46,6 square meters, a kitchen, three bathrooms, an entrance hall, a balcony and an outdoor area with a private pool. This house has it's own pool: wooden deck, it's five feet by three and is fitted by sun loungers.
The villas have prices starting from € 474 (T2), € 607 (T3) or € 740 (T4) per night. Breakfast, which is served in the resort's restaurant, costs € 12.50 for adults and € 6.25 for children aged 3 to 11 years inclusive.
Tróia Residence Reviews, Tróia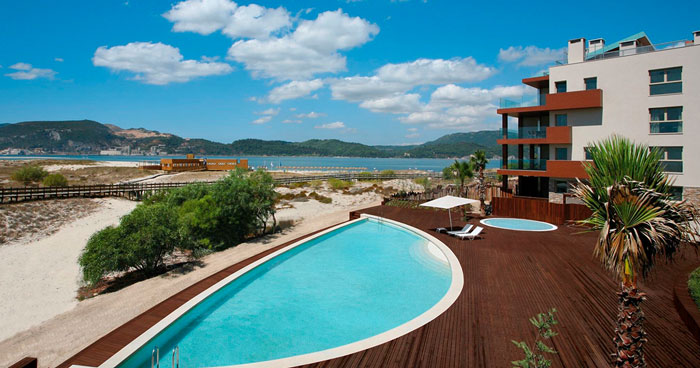 There are two types of apartments with private swimming pool: the T1 and T2. The first one has 97 square meters, a double bedroom, a fully equipped kitchen, bathroom, living room, dining table and direct access to the pool. The second one has exactly the same conditions, it's only a little bigger – it's 110 square meters – and there's another double room. Outside there is a large lawned garden and a wooden deck.
Prices from 309 € (apartment T1) or 399 € (T2) per night.
Monte Novo Eco-Luxury Villas Reviews, Montargil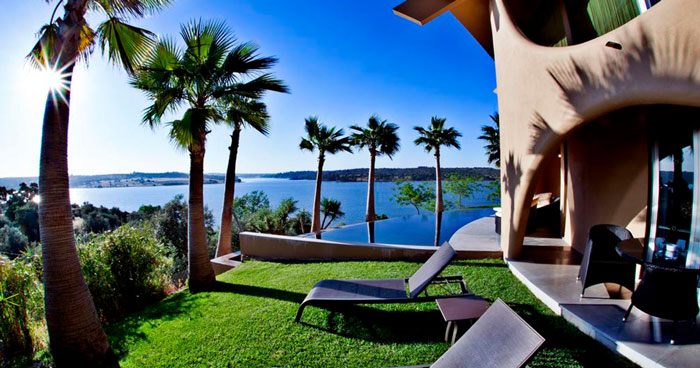 Located right next to the Montargil Dam, and five minutes drive from the village of Montargil, in the district, Monte Novo Eco-Luxury Villas has one, two and three-bedroom villas. The T1, as well as the bedrooms, don't have a private pool. They have to share with the others – with T1 and the ones renting just the bedroom hotel.
The T2 and T3 have their own pool. Monte Novo Eco-Luxury Villas have double rooms with flat-screen TVs, a fully equipped kitchen and a seating area with a fireplace, luxurious Chesterfield sofas and floor-to-ceiling windows. To ensure all privacy, the entrance to the house is also private.
Prices from € 279 per night in a 2 bedroom villa or € 351 in a 3 bedroom villa.
Óbidos Lagoon Wellness Retreat, Óbidos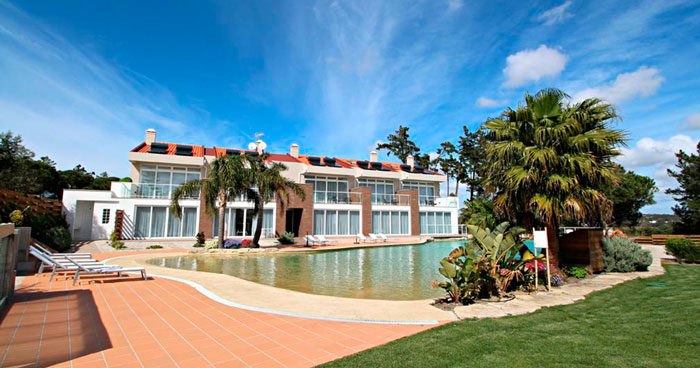 Just 300 meters from Óbidos Lagoon, Óbidos Lagoon Wellness Retreat has luxurious
apartments and villas for rent. For now there are only four villas with private pool, although by the end of August should be finished the works of two more.
There are 2, 3 and 4 bedroom villas, all with a lawned garden and a private pool. If you want to make a barbecue, there is also a barbecue outside. Inside the villas, guests have a fully equipped kitchen, living and dining areas, modern bedrooms, flat-screen TVs and even a DVD.
The T2 villas cost € 320 per night, the T3 € 450 and the T4 € 520. The prices shown are always per night and include breakfast, which is delivered every morning at the door of the villa.
Lake Montargil & Villas, Montargil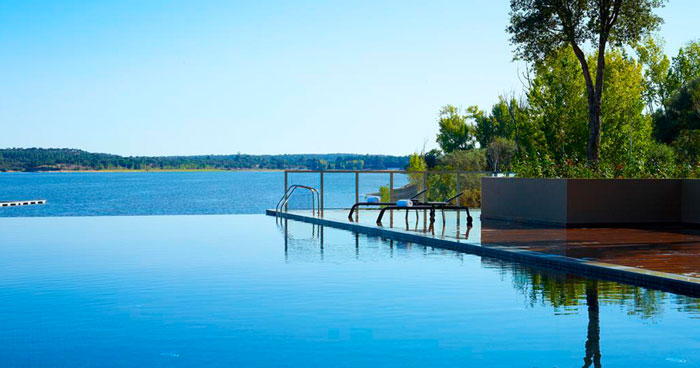 The private swimming pools of the Hotel Montargil & Villas were thought out in detail – they are all endless, stand on small hills and some are so close to the Montargil Dam that the waters seem to match perfectly.
Situated in the Portalegre district, the five-star resort Montargil Lake & Villas has eleven 2 bedroom and 3 bedroom villas for rent. The villas have a fully equipped kitchen, a suite, one or two double bedrooms and a living room and dining room. The villas also have free wi-fi, air conditioning, central heating and telephone.
The price of the villas varies from day to day, but on August 1st, for example, a T2 costs € 325 per night and a T3 is € 475.
Madeira Luxury Villas Living Funchal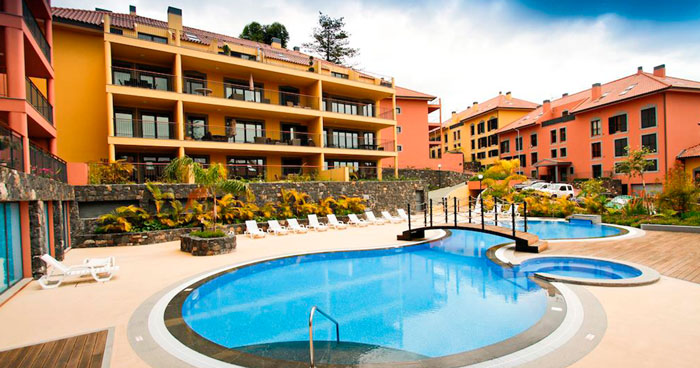 Living Funchal is set in a quiet part of Funchal city and offers self-catering apartments with modern décor. Guests have access to an outdoor swimming pool and a fitness centre. Free Wi-Fi is available in all areas.
The Madeira Luxury Villas Living Funchal features 1 or 2 bedroom apartments that include a living room with a double sofa bed, a flat-screen TV with cable channels, a DVD player and a dining area.
Living Funchal offers a wide range of services, including airport transfers, babysitting, bicycle rental, car rental, daily cleaning, delivery of groceries and a safe.
The price of the villas varies from day to day, but in December, for example, a T1 costs, approximately, €100 per night, a T2 is 180€. In case you fell in love with this island you can invest in real state here, there a lot of amazing properties you can invest or buy for your own.
There are so many luxury villas in Portugal where you can spend time with your partner, your friends, your family etc.